CMIP6 data
Coupled Model Intercomparison project Phase 6
Project under World Climate Research Programme (WCRP)
Since 1995 CMIP has coordinated climate model experiments
Defines common experiment protocols, forcings and output.
33 model groups participate
GMD special issue with articles explaining all MIPs in CMIP6 : https://www.geosci-model-dev.net/special_issue590.html
Advantages:
Homogenized and standardized outputs
Same variable name
Same experiments
Experiments (DECK)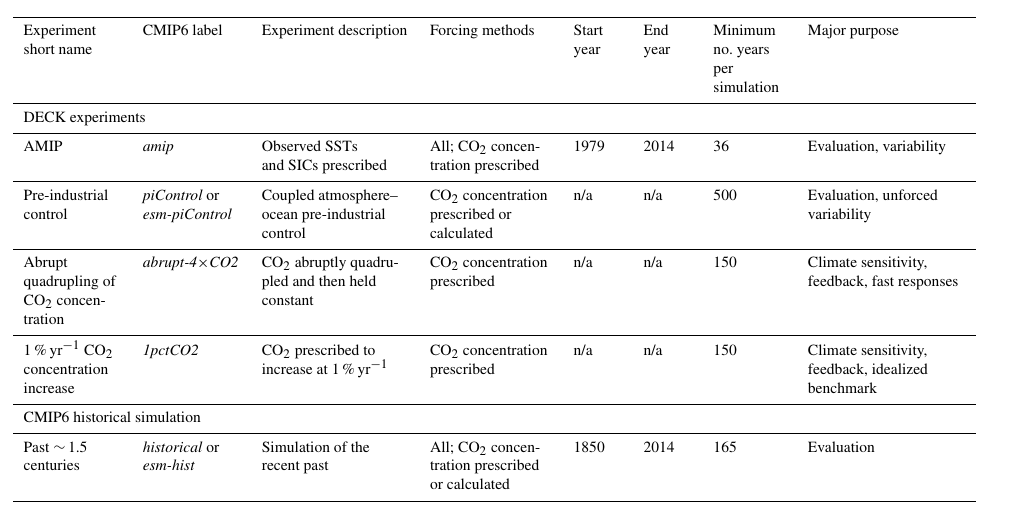 Links:
Tool to download from ESGF archive:
Easiest: https://esgf-node.llnl.gov/search/cmip6/ Sugestion:

Choose a MIP (model intercomparison project) under "Activity" (e.g. CMIP)
Choose e.g. "Experiment ID" historical
Choose "Realm" e.g. aerosol

Press search (this will narrow your further options)

If you want a particular madGEM3-GC31-LL.amip.r2i1p1f3.Eday.zmla.gn Data Node: esgf-data3.ceda.ac.ukodel, you can choose this under "Source ID"
Now you can use either use "Variable" or "CF Standard Name" to pick out the variable you want. ## Download to Jupyter hub:
Click on the "WGET Script" under the variable file you want.
The file will get downloaded to your computer.
Upload it to the Jupyter Hub (you can click and drag the file into your folder)
Use a terminal in Jupyter hub and run (Replace wget***.sh by the actual name of your file)
When it askes for openid and password, just press "enter".
There are some tools for downloading and manipulating data, but I don't have experience with them.